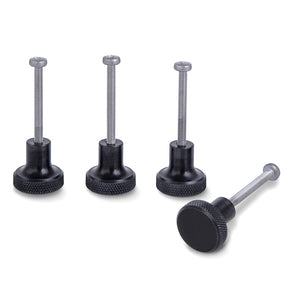 Black Alu Knurled 16mm Dia Round Furniture Cabinet Knobs 4pcs
Good Quality Products

Fast & Free Shipping

24/7 customer support
product description:
Set of four of solid and sturdy knurled furniture knobs
CNC Machined in quality grade metal

Durable Black Anodised Finish
M3 female thread fixing hole. 30mm long stainless steel fixings included
Size: 16mm diameter / 15mm length including head
Simple and stylish can be matched with various home decoration styles with fashionable black finish, and provide an elegant round appearance.
The excellent surface finish provides a good texture and feel. It will provide a good gloss appearance for your furniture and room.

Suitable for: kitchen cabinets, cabinets, drawers, wardrobes, shoe cabinets, cabinets, bookcases, furniture, etc.
PrecisionGeek are very proud that our stainless steel and aluminum fittings are all made in-house on our own Star CNC Machines. From speaker spikes through RC parts to banjo bolts — everything is machined from solid stainless steel and other quality grade metals to exact specifications meaning that quality control is maintained throughout the manufacturing process. It means we can react to new demands, improve and assess each component and offer the best quality solution to any requirement. It also means that we can react to new products required immediately — If you feel there is a new product which we could add to our catalogue please get in touch and we will be happy to offer a quotation. All manufactured in the EU on our own machinery — It's very rare today when many items are simply bought in. We are a company that actually cuts its own metal in-house.
about us
We are Manchester based, family run precision engineering company, specialising in high precision components for any industrial or domestic use. We operate on the "State of the art" Japanese CNC machines, which gives us advantage against competitors. Due to huge demand for our products from all over the world, we expanding rapidly, and we are looking forward to the future
Shipping policy
After we receive payment and we will upload the tracking information and ship day on or next day depending on time of order.
contact us
Business Address:
MAAD Precision Engineering Ltd
8 Larch Road
Partington
Manchester
M31 4LQ
United Kingdom
Phone:  +44 7922 269 169
              +44 7516 382 914,
Email: sales@precisiongeek.co.uk